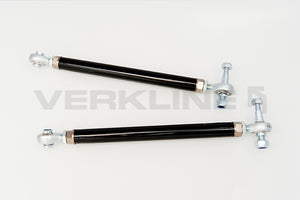 Rear tie rod set for Audi Quattro (B2/B3/B4) made of 25 mm thick tube – same size as used in the B Group cars. Equipped with motorsport joints, spacers, and locknuts. It enables very precise setting of rear geometry settings.
This track rod is for cars without a rear anti-roll bar (ARB) in the rear subframe.
It's a must-have for track or race use, as the OEM ones give up in extreme conditions changing your geometry setup, while the car is in the corner.
All non-OEM parts necessary for the installation are supplied in the kit.
What's included:
– One set (two pieces) of rear black tire rods for the rear with inox finish
– Four motorsport racing tie rod ends (left and right threads)
– Steel machined tie rod end adapters to fit stock bearing carriers
– Self-locking nuts
– Four rubber sealing boots
Features:
– Works with stock or Audi Sport wishbones and OEM rear support frame with sway bar
– 25 mm thick rear tire rods powder painted in black
– Inox screws for 22 wrench from each side
– Locknuts for securing the motorsport joints
– Galvanized tire rod end adapters for fitting bearing carriers
Fits:
– Audi Ur-Quattro Late (1983.5+ with no rear sway bar). Please check the picture here.
– Audi B2 Coupe/Sedan Quattro without rear ARB
– Audi B3 Coupe/Sedan Quattro without rear ARB
– Audi B4 Coupe Quattro without rear ARB