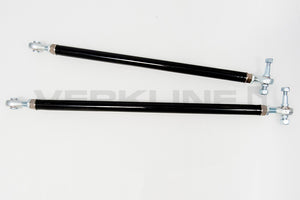 Steering rod set for Audi (B2, B3, B4) Coupe, Quattro, 80/90/Coupe, S2/RS2, etc. 25 mm think tubing like in B Group times to provide strong and precision car handing in the corners under extreme loads.
Rods can be adjusted to fit any suspension settings including longer Audi Sport wishbones.
Motorsport tie rod ends will withhold any stress while the car is on the track or bumpy gravel road. Locknuts on every end of the stick will enable precision alignment of the suspension.
All non-OEM parts necessary for the installation are supplied in the kit.
What's Included:
– One set (two pieces) of front track rods with inox finish
– Four motorsport tie rod ends
– Steel machined tie rod end adapters to fit to stock uprights (B3/B4 type)
– Self-locking nuts
– Four rubber sealing boots
Features:
– Works with stock OEM or Audi Sport wishbones
– 25 mm thick steering rods powder painted in black
– Inox screws for 22 wrench from each side
– Locknuts for securing the motorsport joints
– Galvanized tire rod end adapters for fitting bearing carriers
Fits (does not fit cars with 10VT engines) :
– Audi 80 B2 (FWD & Quattro)
– Audi 80/90 B3 (FWD & Quattro)
– Audi 80/90 B4 (FWD & Quattro)
– Audi S2
– Audi RS2
– Audi Ur-Quattro with B3/B4 uprights
– Audi Coupe Quattro
It will not fit:
– Audi Ur-Quattro 10vt
– Audi Ur-Quattro 20vt 
Notice: Some clearance of the steering rack bracket may be necessary to prevent binding or interference, depending on your suspension settings. Usually not needed unless you have a large caster setup.