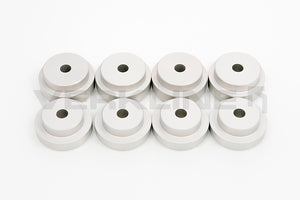 Get rid of your old rubber bushings and insert aluminium ones that will increase stability of the car in the corner. Aluminium subframe bushings will give your suspension possibility to hold desired geometry under the forces while the car is maneuvering on the road. Now the subframe will not shift and the car will fill much more firm holding desired camber, caster and other geometry setups.
Made for Audi V8 D11 and Audi 200 C3 (type 44) front axis.
What's Included:
- 8 pices of aluminium bushings that work with front car axis.
Features:
- CAD designed CNC cut PA6 aluminium
- Anodized in silver
- Completely replaces OEM bushings to eliminate unwanted suspension movement
- More precise feel and quicker reactions to steering input
- Will not compress, crack or separate like rubber bushings
- Created to reduce unwanted suspension flex