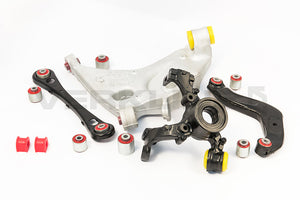 Full Rear Audi B6/B7 Suspension Polyurethane Kit – 18 pieces (left + right side).
Polyurethane bushings work ideally in performance suspensions. Rubber suspension bushings are a proven compromise in performance vehicles. When additional horsepower is added, plus-size tires then OEM or rubber bushings tend to stress beyond design limits. Polyurethane bushings are strong enough to control movement and maintain differential stiffens. Control arms not included.
We also have a full-front Polyurethane bushings kit available.
What's Included:
– 2 pcs – polyurethane bushings for rear stabilizer bar 22mm as standard (other sizes available, 16mm 18mm, 20mm, please specify when ordering if you need different)
– 4 pcs – wishbone upper rear sleeve
– 2 pcs – rear polyurethane bushing for the rear lower wishbone
– 2 pcs – front sleeve for the rear lower wishbone
– 2 pcs – sleeve for rear lower wishbone (near upright)
– 2 pcs – inner sleeve for rear transverse wishbone
– 2 pcs – outer sleeve for rear transverse wishbone
– 2 pcs – polyurethane bushing insert into rear upright
– grease for fittings the bushings into the wishbones
Features:
– red/yellow polyurethane bushings
– stiffness rated 75 ShA
Fitment:
– Audi B6 A4 Quattro
– Audi B6 S4
– Audi B7 A4 Quattro
– Audi B7 S4
– Audi B7 RS4