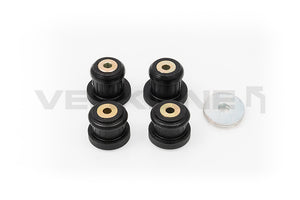 Set for one subframe of Polyurethane Subframe Bushings – size M10.
Polyurethane bushings work ideally in performance suspensions. Rubber suspension bushings are a proven compromise in performance vehicles. When additional horsepower is added, plus-size tires then OEM or rubber bushings tend to stress beyond design limits. Polyurethane bushings are strong enough to control movement and maintain wheel alignment.
They can be used to maintain the stock suspension comfort.
What's Included:
– 4 pieces of black polyurethane bushings (10 mm bolt) that work with one of the car's axles
Features:
– Completely replaces OEM bushings to eliminate unwanted suspension movement
– More precise feel and quicker reactions to steering input
– Created to reduce unwanted suspension flex
– Track hardness rated 85 ShA
Fitment:
– Audi B2
– Audi B3
– Audi B4 with M10 bolt