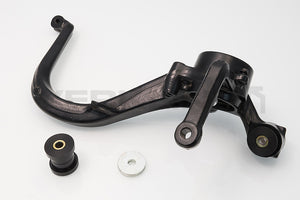 This is a set (left and right housings) of missing bush that is not sold by Powerflex. If you have a kit by them you are missing this polyurethane bush in your rear suspension.
Polyurethane bushings work ideally in performance suspensions. Rubber suspension bushings are a proven compromise in performance vehicles. When additional horsepower is added, plus-size tires then OEM or rubber bushings tend to stress beyond design limits. Polyurethane bushings are strong enough to control movement and maintain wheel alignment.
OEM part nr 8D0505171 or 8D0505171C
This is the outer bush that goes into the bottom of the wheel-bearing housing.
What's Included:
– two black Polyurethane bushings
– two centering sleeves for the Polyurethane bushings
– four washers
– grease for fittings the bushings in the wishbone
Features:
– track stiffness rated 85 ShA
Fitment:
– Audi 80 Quattro B4 Avant
– Audi 80 Quattro B4 Sedan
– Audi RS2
– Audi A4 B5 Quattro
– Audi S4 B5
– Audi RS4 B5
OEM part nr 8D0 505 171