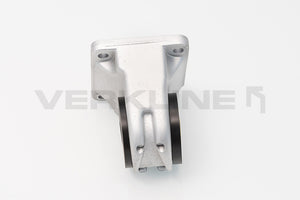 Audi Quattro rear differential polyurethane mount.
Unlike other products on the market this one fits perfectly on the both sides of the aluminium casting and on to for subframe metal mount. Our product is precisely undercut to fit the rear diff gearbox support. Other products have the same width of the outer edge and this makes it bad fit for the subframe mount.
Polyurethane bushings work ideally in performance suspensions. Rubber suspension bushings are a proven compromise in performance vehicles. When additional horsepower is added, plus size tires then OEM or rubber bushings tend to stress beyond design limits. Polyurethane bushings are strong enough to control movement and maintain wheel alignment.
OEM part is N/A but it was used in rear gearbox support part number 895599125
It can be also used with Audi Sport Quattro replica mounting (upside down) to the car body.
What's Included:
– Yellow polyurethane bushing for rear gearbox support (aluminium arm not included)
– grease for fittings the bushing
Features:
– track stiffness rated 85 ShA
Fitment:
– Audi B2 Coupe Quattro
- Audi Ur-Quattro
– Audi B3 Coupe Quattro
– Audi B4 Coupe Quattro
- Audi S2 Coupe
Notice: Audi made rear diff mount housing in two sizes, our mount is made to fit for the larger housing, smaller housing will is 0.5mm in diameter smaller and you will need to shim it with a sanding drum or roll.