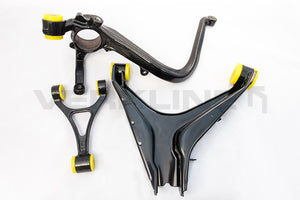 A set full of rear wishbones for Audi B4 cars including S2, RS2
Black set for all rear wishbones of polyurethane bushings for cars with cast upper arms.
Polyurethane bushings work ideally in performance suspensions. Rubber suspension bushings are a proven compromise in performance vehicles. When additional horsepower is added, plus-size tires then OEM or rubber bushings tend to stress beyond design limits. Polyurethane bushings are strong enough to control movement and maintain wheel alignment.
This is a full set for the rear (left + right side) of the car all wishbones.
Includes the missing bush that Powerflex does not carry !
Features:
– 12 black polyurethane bushings (wishbones not included)
– stiffness rated 85 ShA
Fitment for cars:
– Audi B3/B4 Sedan with pressed cast rear upper iron arms
– Audi B3/B4 Avant with pressed cast rear upper iron arms
– Audi RS2 with pressed cast rear upper iron arms